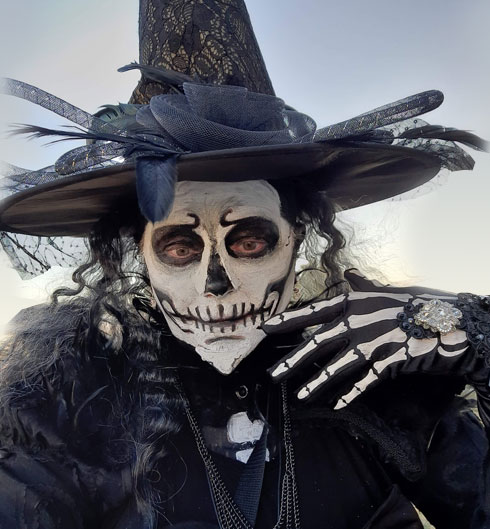 This is the one that started it all! My first Witches Night Out at Gardner Village. (seen here with the Sanderson Sisters, I'm the one with a green face)
Halloween has always been my jam, enjoyed it as a kid, young adult, and when raising my children. It's always been a party and a passion.
But going to Gardner Village 5 years ago for Witches Night…that was a game changer!
Since then, I plan at least 6 months ahead and see if I can outdo last year's costume. Now my husband is in on it with me! He dresses up on Halloween and does couples costumes at the Tooele County Children's Justice Center  Black Tie & Blue Jeans Halloween fundraiser.
Not limited to Halloween….now I've included movie premiers, Halloween swimming parties, cosplay, and roles in a local stage performances as part of costume love.
It's so much fun! Nothing but pure joy!