What a time to resurrect the zine! With it's origins more than 15 years ago, back on the "other" HOW forum (which included some listserv HOWies"), this collaborative magazine is the brainchild of Patti Bachelder who collaborated  with creatives all over the world.
The way it works: once a theme is picked, all of us would create a page with our own interpretation of the theme, print a quantity of back/front, send prints and $10 for assembly plus postage, then a final printed and bound zine would be mailed to us snail-mail style.
Now, prompted by Covid-19, the zine is digital, with interactive and motion options.
My hope is that we can move back to the print version again, with signups in August, submissions and assembly in September, and mail out for October. With Zombies as a theme, this would be our Halloween treat!
New Zine Specs
RGB 900×900 pixels/motion composition

.JPG
300 DPI or 72 DPI, your choice

.GIF
Animated frames are 72 DPI.

.MOV or .mp4
file maximum: 30 sec, no more than 7megs. Recommended format is H264 with 15 FPS
HOWiezine history runs deep!
These books are creative gold. The printed version was a 3-month project and took 2-3 days for Patti to hand make all the books, with up to 60 participants. There were a few times she had help with assembly, but with 17 zines in all, she made this happen solo. Many props to you Patti!
Patti also had fun coming up with the bindings. One of my favorite was HZ14 "Coffee". The zine was wrapped in burlap, screen-printed, and fastened with a coffee stirrer. Clever!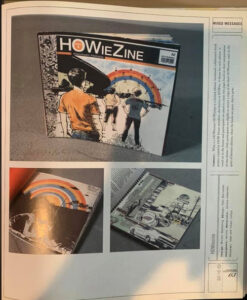 CURRENT ZINE IN PROGRESS:
Quaranzine – HZ2020
Pages submitted so far…
When we get 12 pages, the compiled, interactive pdf will be available for download.